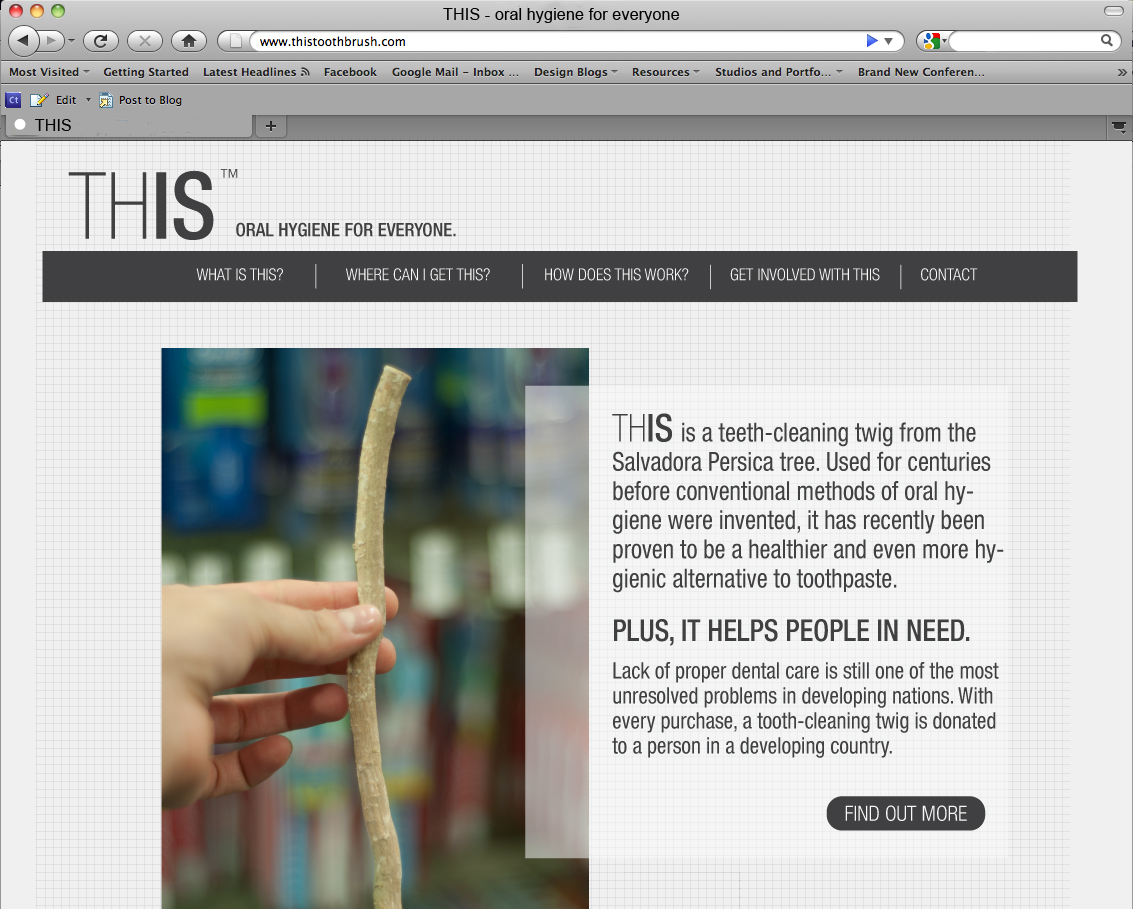 "Just" A STUDENT project
THIS began as a design project at the School of Visual Arts in New York, where Lebanese designer Leen Sadder and her classmates were asked to redesign the first thing they threw out after leaving class. Leen went home that night and threw out an empty tube of toothpaste.
While researching the history of oral care, Leen came across the cultural and medicinal benefits of the miswak, and decided to re-introduce it to the Western world. She came up with a simple name and brand and designed a prototype for a miswak holder and cutter that would make it easier to cut and carry the miswak. The prototype was the first iteration of what would become The Cutter Case.
After presenting the final results to the class, she uploaded the project to her online portfolio, thinking she would never look back at it again.
accidentally viral
The project was first discovered by the industrial design magazine Core77- and from then on was featured in multiple online publications, magazines, blogs and news articles both in the U.S. and abroad.
Leen began receiving emails from all over the world, mostly from people who thought the product was real and wanted to know where they could purchase it. The project was named #27 on The Dieline's Top 100 Package Designs, and also received recognition as a semifinalist in the Adobe Design Achievement Awards.
RETHINK & REDESIGN
Seeing the demand from two very different communities- people looking for natural alternatives to the toothbrush, and Islamic communities looking for a modern take on the miswak- Leen decided to pursue the project, starting with the redesign, development and production of the Cutter Case.
After lots of professional help and months of market research, user surveys, 3D printing and prototyping, the Cutter Case was ready for production and a provisional patent was issued. The next step was to figure out funding and manufacturing.
SUCCESSFULLY FUNDED
To raise funds for production, THIS Toothbrush set up a crowdfunding campaign on a Middle East-based platform called Zoomaal. In one month, the project raised $18,753 to fund the initial manufacturing costs.
The tooling process (where a mold is custom-built in order to produce multiples of a product) began in Shenzhen, China. Numerous iterations and samples later, the Cutter Case was finally ready to be shipped to the Zoomaal backers, and THIS Toothbrush was ready to set up shop.
FROM NEW YORK TO DUBAI
While production details were being finalized in China, THIS Toothbrush went on an exciting Middle East tour, participating in conferences and exhibits from Qatar to Riyadh to Dubai, where demand for the not-yet-launched product was off the charts.
Seeing the opportunity in the Middle East, THIS Toothbrush moved its operations from New York to Dubai in August 2015. The first batch of Cutter Cases arrived safe and sound and are making their way to retailers, customers and distributors in the Middle East and elsewhere.
Find out more about our products: